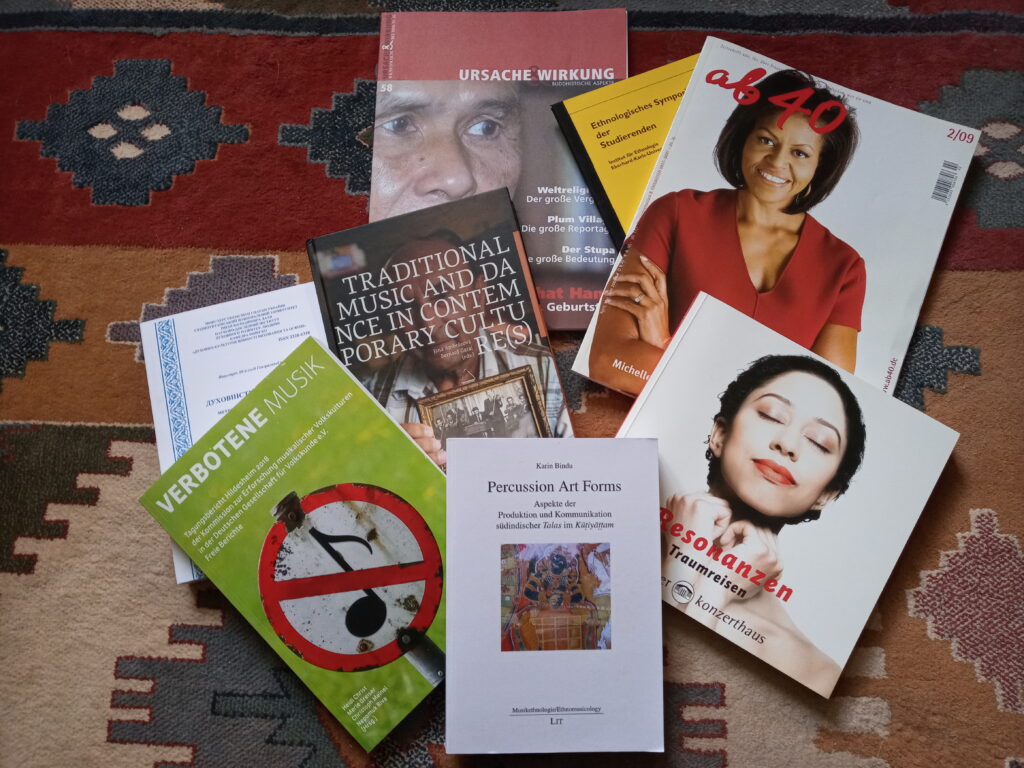 Publications Peer-Reviewed
2021: Article. Layne Redmond's Legacy: Digital Handprints of Female Frame Drummers. In Etnomüzikoloji Dergisi, Ethnomusicology journal Special Issue / Women Play Sing the Earth-Music and Women, 51-69. Retrieved from https://dergipark.org.tr/tr/pub/etnomuzikoloji/issue/68173/1061327 /wp-content/uploads/sites/23/2023/03/Layne-Redmond___s-Legacy-Digital-Handprints-of-Female-Frame-Drummers1061327-2206076.pdf
2021: Article with K. Sajith Vijayan. Kerala's Ancient Mizhavu Drum: Transformations and Sustainability. In ASIAN-EUROPEAN MUSIC RESEARCH JOURNAL 8, pp 27-38. Logos Verlag, Berlin (D). https://doi.org/10.30819/aemr.8-4
2019: Article in Book: Bindu, Karin & K. Vijayan, Sajith (2019). Contemporary Types of Ritualistic South Indian Mizhavu Percussion Ensembles in Kerala. In Traditional Music and Dance in Contemporary Culture(s). Ambrózová, J. – Garaj, B. (eds.). Nitra: Constantine the Philosopher University, p. 28 – 41. ISBN 978-80-558-1477-3. /wp-content/uploads/sites/23/2023/03/Contemporary_Types_of_Ritualistic_South.pdf
2019: Article. The fascinating generation of the South Indian Suladi Talas. In Journal of humanities and cultural studies R&D, Volume 4, No.2. ISSN: 2490-4228. UAE: Skyline University College. URL: https://www.jsrd-humanities.com/volume-4; /wp-content/uploads/sites/23/2023/03/The_fascinating_generation_of_the_South.pdf
2016: Article. Mizhavu-göttliches Perkussionsinstrument im südindischen Sanskrit-Drama Kutiyattam. In Anthropos. Internationale Zeitschrift für Völker- und Sprachenkunde. 111.2016/2, 395-415. Ed. Anthropos Institut. Fribourg (CH): Editions St-Paul. DOI: 10.5771/0257-9774-2016-2-395 /wp-content/uploads/sites/23/2023/03/Anthropos-2016-Artikel-Mizhavu-im-suedindischen-Sanskrit-Drama-Kutiyattam.pdf
Publications Reviewed by Editors and Collegues
2023: Coming soon: Article. Autoritätsverlagerungen am Beispiel südindischer Mizhavu Perkussionisten des Kerala Kalamandalam. In: Autoritätsbildungen der Musik. Hrsg. Camp, Brabec de Mori, Klebe. Published planned for 2023, Chronos Verlag.
2022: Online Publication, Url: https://scalar.usc.edu/works/ictm-dialogues/karin-and-sajith in Panel Reading Together in a Far-Reaching Community
Applying Decolonization to Practice in Dialogues: Towards Decolonizing Music and Dance Studies. Url: https://ictmdialogues.org/  
2020: Article. Das Musikverbot in Afghanistan während der Herrschaft der Taliban und dessen Auswirkungen auf rezente musikalische Aktivitäten. In: Verbotene Musik. Tagungsbericht
Hildesheim 2018 der Kommission zur Erforschung musikalischer
Volkskulturen in der Deutschen Gesellschaft für Volkskunde e.V. Freie
Berichte. Hrsg. Heidi Christ, Merle Greiser, Christoph Meinel und
Nepomuk Riva. Uffenheim: Forschungsstelle für fränkische Volksmusik 2020
(= Veröffentlichungsreihe der Forschungsstelle für fränkische Volksmusik 77); ISBN 978-3-925170-46-1
2017: Article. Intercultural transformation of spiritual consciousness by the practise of Indian classical percussion music. In: Spirituality of a Personality: Methodology, Theory, and Practice, Collection of Research Materials, Issue 3(78), 84-93. Kyiv-Severodonetsk (UKR): Volodymyr Dahl East Ukrainian National University. http://oaji.net/articles/2017/690-1507113375.pdf
2016: Article. Talas in the Kutiyattam. In: Nartanam. A Quarterly Journal of Indian Dance.Vol.XVI No.3, July-September 2016, 195-209. Hyderabad (IN): Sahrdaya Arts Trust. ISSN 2455-7250 /wp-content/uploads/sites/23/2023/03/Talas_in_the_Kutiyattam.pdf
2013: Monograph. Percussion Art Forms: Aspects of Production and Communication of South Indian Talas in the Kutiyattam. Vienna: LIT Verlag. ISBN 978-3-643-50501-9
Publications Non-Peer Reviewed
2012: Article. The universe is dancing. In The Music Almanac of the Wiener Konzerthaus RESONANZEN. DREAM TRAVEL. December 2012, IMFG 1030 Vienna.
2009: Book review. Nothing happening in Punnapra by Sylvie Bantle, Shaker Media Aachen 2008. Review published in AB 40, JOURNAL OF, FOR, ON WOMEN, April, May, June 2009, 40+ Verlagsgesellschaft GmbH, 80753 Munich, also appeared in the online magazine THE SCORPION no. 6/2009 (redaktion-derskorpion@msn.com)
2006 Article. A rhythmic way to Hinduism. In CAUSE & EFFECT Dez.2006, JG 15, 1020 Vienna
2006: Book review. FE / male drums. Gender discourses on the example of drums in Havana by Lucia Mennel, Peter Lang Publishing; Review published in SÜDWIND Magazine no. 5, May 2006, Südwindagentur 1080 Vienna
2004: Publication of the paper "Shacti shakes Shac Shacs for Shango" at the University of Tübingen (D) as part of a symposium Ethnological Revitalizing a ritual in the associated reader, Tübingen
1991: Article. Kriwanek (building name by Karin Bindu), Karin and Rappold, Sonja. The living knowledge of Adivasi women. The recovery of the feminine principle, S 123-131. In Deforestation and resistance. Global and Austrian aspects. Editor: Global 2000 / ÖIE Austrian Information Service for Development Policy. Vienna 1991: WCT Publisher